Today we are thrilled to bring you the third and final part of our showcase of beautiful and amazing work from our very talented students from The Ultimate Portfolio Builder of The Art and Business of Surface Pattern Design who took the course in March 2016. Here are some of our talented students and the work they have created in class.
The next round of The Ultimate Portfolio Builder will commence September 5, 2016 – so why not join in the fun now!
---
Portia Monberg | USA | Website
"Being part of the UPB community has been a wonderful experience. Everyone has been so helpful and supportive".
Tina Mueller | Germany | Website
"The student design reviews have been incredibly valuable to me. I got a great insight into building collections and learnt a lot about how I can further develop my designs. The feedback was very professional, supportive and motivating".
Valentina Compagnoni | Italy | Website
"Participating in the Ubp course was a great way to develop and focus my portfolio and an endless resource of inspiration".
Ruth Waterhouse | UK | Website 
"The most powerful element of the course is the portfolio reviews, by watching the other reviews, they gave me ideas of how to try different things to improve my designs. My own review helped me realise that I am going in the right direction and it gave me the advise and confidence to keep designing.
With this module and the other three modules of the ABSPD that I have taken, I am looking forward to the next part of my design career".
Sara Franklin | USA | Website
"Rachael has given me the tools I need to move forward and keep experimenting within my style. She is a wealth of information and enthusiasm for surface pattern design".
Susan Brand | USA | Website
"This course has helped me think outside the box and embrace my style. I'll be working on the exercises and watching all the demos and critiques for months to come".
Suzy Naidoo | Australia | Website
"The Ultimate Portfolio Builder is an inspirational feast where we are encouraged to try new product types, colours and subject matter. This alone would make it a wonderful experience in professional development but the inclusion of  professional reviews is what makes this course so special, the insights and advice will linger in my mind and help me in my future work".
Tracey Coon | USA | Website
"The most powerful element of this course for me has been all the challenging and creative assignments/briefs. They have really stretched my design skills and way of approaching projects. Thank you".
---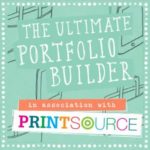 The Ultimate Portfolio Builder is an advanced seven-week online professional surface pattern design course, consisting of an intense five-week class followed by two weeks of design reviews.
This powerful course will give you all the tools and advice you need to grow your body of commercially viable work, refine and strengthen your professional design portfolio and give you the fast-track to trade show success.
Course alumni have gone on launch their own design studios, win national awards, be featured in design books and on leading blogs and more. Many of our graduates are exhibiting at top shows, forming collectives, signing exciting licensing deals and enjoying lots of surface pattern success.
Read a handful of our class testimonials, check out our alumni successes and see what our students are getting up to!

---